European Weightlifting Championships: Vitaliy Derbenev Wins 56-kg Category
Minsk—Belarus had good reason to cheer as Vitaliy Derbenev won the gold medal in the total in the 56-kg category at the European Weightlifting Championships.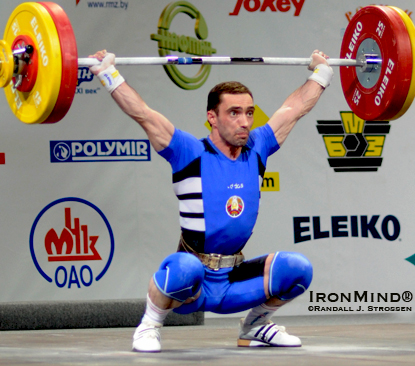 Displaying his trademark smoothness in the the snatch, Vitaliy Derbenev (Belarus) opened with this successful 113-kg lift. IronMind® | Randall J. Strossen photo.


Derbenev showed his characteristic piston-like precision in the snatch, nailing 113, 116 and 118 kg, for his first gold medal of the night. Early on, it became apparent that Smbat Margaryan (Armenia), who lifted in the B session might well be a threat in the clean in the jerk as well as the total. This proved to be no idle conjecture as Margaryan ended up the gold medal in the jerk and the silver medal in the total.

Derbenev also provided some color as he got what some felt was a very quick down signal on his third jerk, a lift he needed for the gold medal in the total.

Derbenev didn't hear the signal and kept moving forward as he struggled to control the bar, finally dropping the weight while vocalizing his displeasure as he thought he had never been given the down signal. Some others who had not heard the down signal questioned why Derbanov was given three white lights on a lift that never appeared to be under control, but the referees' decision was not overturned and Belarus had its first champion.