European Weightlifting Championships: 56-kg Medal Medley
Tel Aviv—It was a close race in the 56-kg class, with some interesting twists and turns along the way: none of the snatch medalists achieved the same distinction in the clean and jerk and the lifter who could have won, didn't because he celebrated too much, too soon.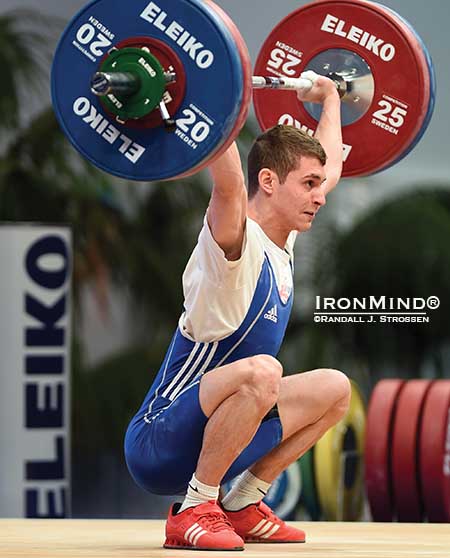 Easy does it: Florin Croitoru (Romania) made this gold medal 122-kg snatch and it paved the way to a gold medal in the total as well. IronMind® | Randall J. Strossen photo


Three lifters ended with 115-kg in the snatch, including 39-year old Tom Goegebuer (Belgium), who netted the bronze medal—silver going to Ismet Algul (Turkey). Florin Croitoru (Romania) made 117, 120 and 122 kg look easy and his superior snatching did more than give him the gold medal in the snatch: it bolstered his fifth place finish in the clean and jerk enough to also give him the gold medal in the total.

And talking about fifth place finishes, that's where Mirco Scarantino (Italy) landed when the snatches were done, but wait, that 116-kg snatch he celebrated—wildly, as he's wont to do—on his way up, only to then lose the lift—which resulted in even more drama from Scarantino—would have given him the silver medal in the snatch and enough to tie the gold medal total.

Scarantino made 140, missed the jerk on 143 kg and then came back to succeed with that weight—it gave him the bronze medal in clean and jerk. Smbat Margaryan (Armenia) went into gold medal position in the jerk with 145 kg on his second attempt and then Oleg Sirghi (Moldavia) replied with a successful 146-kg lift, but with one attempt left, Margaryan had the last word: he leapfrogged over Sirghi with a 147-kg lift.

Back to the world of would have, could have, should have: had Scarantino not foiled himself with his premature celebration and then tied what was the gold medal total, guess what? He and the actual winner were tied in bodyweight, but because Croitoru hit the total first, he'd still have won and Scarantino's silver medal in the total would have still been silver.

###



Visit the IronMind Forum: talk strength, discuss this story. Strongman, grip, Highland Games, Olympic lifting, stones and more.

You can also follow IronMind on Twitter and on Facebook.