Derek Palmeri Certifies on the Crushed-To-Dust! Challenge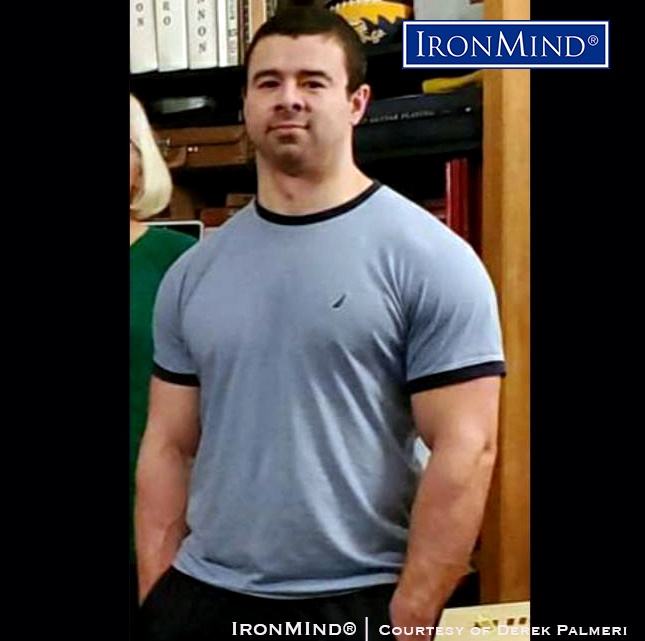 Derek Palmeri kicked off the new year in a big way as he just certified on the Crushed-To-Dust! Challenge, proving his superior all-around grip strength.
"I am 32 years old and was always skinny and started lifting weights at age 24 to gain weight. I got into grip -specific training in the summer 2021, with Captains of Crush grippers, which I could close the 2.5 with no set my first day trying, and closed a [CoC] 3 with a credit card a couple months later. I have an associate degree in nanoscale materials technology and a bachelor's of science degree in information systems. I worked almost a decade in nanotechnology and am now in graduate school for my doctorate in physical therapy," Palmeri told IronMind.
"I did not play any sports growing up outside elementary school but instead had a very wide range of odd hobbies. I always have so many things I'm doing or working on that I never find myself bored. I have goals of working on doing more gripper certifications. I have always had large forearms, even a decade before I started lifting weights, which I believe was probably from juggling for a while as a teenager. I train by myself at home and it's a fun time."
Palmeri is 32 years old, 5'8" tall and weighs 182 lb.
Here'a link to Derek Palmeri's official attempt to complete IronMind's Crushed-To-Dust! certification.

Congratulations, Derek: your name has been added to the Crushed-To-Dust! certification list.

###


You can also follow IronMind on Twitter, Instagram and on Facebook.
Want to talk grip, strongman, weightlifting . . . everything strength? Visit the IronMind Forum.