2013 California Celtic Classic & IHGF World Highland Games Championships
Francis Brebner has announced an all-star lineup for the 2013 California Celtic Classic World Highland Games & Festival, host of the 2013 IHGF Pro World Highland Games Championships, August in Dana Point, California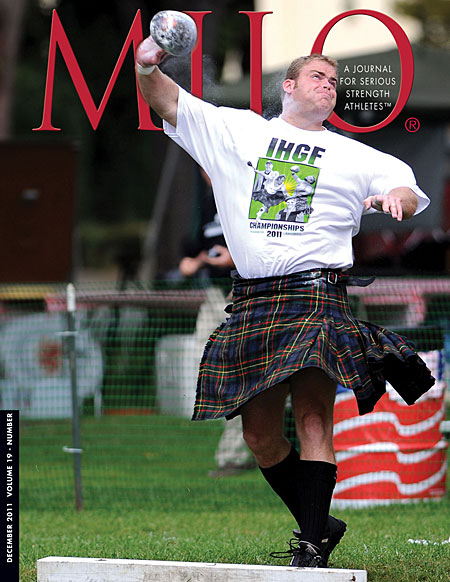 Elite Highland Games competitor Dan McKim is a top choice for adding another IHGF world championships title to his impressive string of victories when the world's leading heavies head to Dana Point, California. IronMind® | Randall J. Strossen photo. 



Brebner told IronMind, "The event will be filmed by Cox TV and will be made into a show that will be aired to over 1 million households and the line-up of athletes in this year's world championships is second to none."

According to the release received by IronMind, the pro Highland Games line-up includes:

1. Scott Rider, England
2. Sebastian Wenta, Poland
3. Hans Lolkema, Holland
4. Craig Sinclair, Scotland
5. Matt Docherty, Canada
6. Greg Hadley, Canada
7. Mike Zolkiewicz, USA
8. Dan McKim, USA
9. Matt Vincent, USA
10. Sean Betz, USA
11. Jon O'Neil, USA
12. Ryan Stewart, USA 



In addition to the professional class, Brebner said, "the IHGF Amateur All-American Highland Games Championships will take place, from which one athlete will qualify for the 2014 IHGF Amateur World Highland Games Championships and also the California Celtic Classic Strongman Challenge."

Scheduled for August 24–25, for the full details, please follow this link.

### 



The IronMind Forum: discuss this article, talk strength, get help with your training.

You can also follow IronMind on Twitter and on Facebook.