2011 IronMind Catalog: New Products, Old Favorites
The 2011 IronMind catalog is starting to reach current customers, and to help you get the most from your training, we've added some terrific new products to complement your old favorites - some of which are now sporting improvements.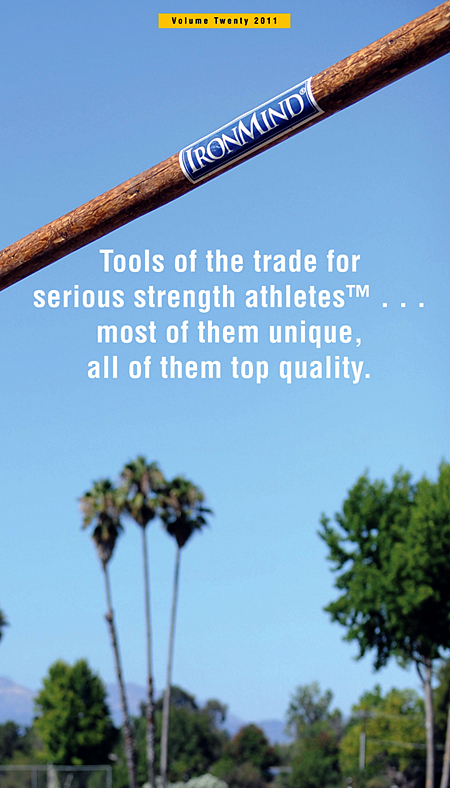 Crafted by California Cabers, the IronMind caber debuted at the Caledonian Club of San Francisco's Scottish Highland Gathering and Games in Pleasanton this year, and we thought, "Why not stick it on the cover of this year's new catalog as it rotated through the California sky?" So with thanks to Athletic Director Steve Conway, and to all the heavies who launched it, we proudly present the IronMind caber in flight. IronMind® | Randall J. Strossen photo.



Captains of Crush Grippers®, MILO®, Strong-Enough Lifting Straps, JUST PROTEIN®,Vulcan Racks, IMTUGs, Draft Horse Pulling Harnesses, SUPER SQUATS, the Rolling Thunder® . . . plus a number of new product surprises we're unveiling in time for Christmas.

Since 1988 IronMind has focused on providing "Tools of the Trade for Serious Athletes™." IronMind products are designed and built for the world's strongest men because that's who uses them, and they have proven themselves year after year in premier contests and home gyms worldwide.

Can't wait for your catalog? Visit the IronMind online store and see what we've got to help make your training the best it can be.


###


Want to talk strength or discuss this article? Join the IronMind Forum!

You can also follow IronMind on Twitter.