2010 North American Highlander Nationals: Results
"The Champions Have Been Crowned!," North American Highlander (NAHA) founder D. J. Satterfeld reported to IronMind®, with the NAHA National Championships producing "three new champions and two back-to-back champions."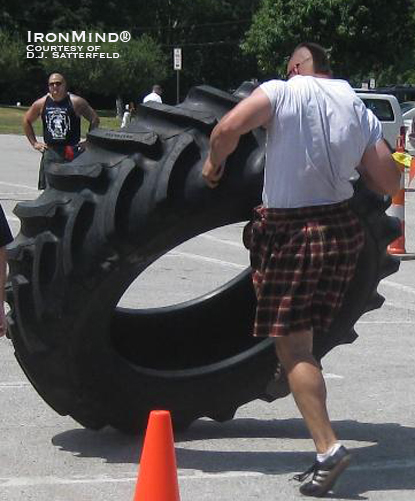 Charles Kasson, heavyweight champion, on the tire flip. IronMind® | Photo courtesy of D.J. Satterfield.


Summing things up, Satterfeld said, "It was a very warm, sunny day and the competitors put in some stellar performances," as he filed this report with IronMind®.

2010 North American Highland Nationals Championships
by D. J. Satterfeld

Amy Wattles from Idaho won 5 of 6 events in a dominating performance, becoming NAHA's first Women's National Champion. The Masters division saw John O'Brien from Missouri win his second national title in a row.

The lightweight division was a battle all day with Corey Kenkel of Iowa coming out on top to win his first National Championship. The middleweight division was once again dominated by Mark Wechter of Oregon, winning 5 of the 6 events and also becoming a back to back NAHA National Champion.

In the closest battle of the day, the heavyweight division, Charles Kasson of Nebraska took the crown. "Charles and Matt Vincent (2009 NAHA Heavyweight Champion) battled it out all day, with each winning three events and each getting three 2nds, so it came down to bodyweight and Charles weighed 3 lb. less, claiming the victory.

This competition was once again a benefit for Camp CoHoLo, a local cancer camp for children ages 6-17. We were fortunate enough to raise over $2,200 bringing our four-year total to $10,000 in donations to the camp. The camp is run on donations only.

A highlight of the day was 10-year-old Megan McConnaughey. Megan is a camper from the camp and is fighting a serious battle of cancer right now. "We were honored to have Megan attend the competition for a short while and say a few words to thank everyone and talk about the camp. It was a very humbling moment for all in attendance.

NAHA will have a full write-up, pics and scores posted on their website later this week.


Want to talk strength? Join the IronMind® Forum!

You can also follow IronMind® on Twitter.