Captains of Crush® Grippers: How to Certify and Rules for Closing
How to Certify on IronMind's No. 2, No. 2.5, No. 3, No. 3.5, or No. 4 Captains of Crush Grippers
Rules for Closing a No. 2, No. 2.5, No. 3, No. 3.5, or No. 4
Captains of Crush Gripper
1. The gripper must be an authentic IronMind Enterprises Captains of Crush® gripper.

2. The gripper cannot have been modified or tampered with in any way.

3. Ordinary chalk (magnesium carbonate) may be used on the gripping hand, but nothing else is permitted (liquid chalk, for example, is specifically disallowed).

4. The free hand may be used to position the gripper in the gripping hand, and the starting position can be no narrower than the width of a Captains of Crush card: the gripster must show the official that he has an acceptable starting position by using his non-gripping hand to demonstrate that the end of a Captains of Crush card fits between the ends of the handles, pausing in this position to prove the starting position is legal. Once this is done, the official will give the signal to remove the card and begin the attempt.
On video-based official attempts,the gripster must still demonstrate a legal starting position by clearly showing the card fits between the end of the handles and pausing—before removing the card and continuing with the attempt. Do not rush this demonstration and do not slide the card on top of the handles as this would be an automatic No lift.
5. Any contact between the non-gripping hand and the gripper as the card is being removed will invalidate the attempt, and the non-gripping hand must stay at least a foot from the gripping hand at all times during the squeeze. Similarly, nothing may be in contact with the gripping hand or the gripping arm from the elbow down (for example, the free hand is not allowed to steady the wrist of the gripping hand or hold the spring, etc.). The entire attempt must be clearly visible to the official: the gripper cannot be closed while blocked from view and then turned and presented as already closed.

6. The gripper must be held with the spring facing up.

7. The handles must touch completely.
You've just closed a No. 2 (for women only), No. 2.5 (for women only), No. 3, No. 3.5, or No. 4 Captains of Crush Gripper according to our Rules for Closing and you want to be certified. What do you do? Use the checklist below to help guide you:
Review the Rules for Closing to confirm you are closing the Captains of Crush Gripper under the proper conditions.

Wait until you have mastered the gripper, so that when you do close the gripper in front of your referee, all will go smoothly. 
 

Contact IronMind Enterprises, Inc. and let us know that you are ready to be certified.

IronMind will select a referee in your area to witness and verify the closing. We will then put you in contact with your referee to arrange a mutually convenient time to get together. In order to maintain the integrity and impartiality of the judging process, please do not line up your own referee. 
 

Confirm your scheduled certification attempt date with IronMind.

In order to maintain the integrity of the certification, IronMind will select a referee in your area to witness and verify your ability to close the CoC® gripper per our rules.  We will introduce you to your referee so that the two of you can arrange a mutually convenient time and place to get together.  IronMind will send your referee a gripper that will be opened on the spot for your official attempt.  We expect the certification attempt take place within a reasonable amount of time, such as within a few days of when your referee has been identified, so please do not contact us unless you are fully prepared and can schedule your official attempt promptly. 
 

Bring the necessary paperwork to the meeting with your judge.

Print out a copy of the Rules for Closing and Referee Form and take it with you to your meeting. The referee will complete the form and return it to us. If you are a teenager, please bring a copy of your ID so that your judge can confirm your age—IronMind will contribute to the Marunde Educational Trust Fund in honor of your accomplishment. 
 

Send a photo of yourself and a short bioto IronMind.

Your referee will return the completed form to IronMind, and you will need to send us a photo of yourself that you can take right after your official, successful attempt.  A high quality waist-up photo is prefered: nothing fancy is required, so maybe just hold the CoC gripper you conquered, and feel free to include your referee if you would like to.
 

Thank your referee.

Make arrangements to meet your referee at a time and place that is convenient for him/her. Remember, he/she is taking his/her own time to help you get certified. It should go without saying that civil behavior and good sportsmanship are expected—a serious breach of protocol is the basis for suspension or disqualification at any time. 
 

Return your required materials to IronMind within 72 hours of your attempt.

Please return your required materials to IronMind immediately following your attempt—unless prior arrangements have been made, all materials must be received by IronMind within 72 hours of your attempt or it may be disqualified.  Your photo and bio may be sent by you, but the referee's form is to be sent by the referee—email is the preferred method, although a fax is acceptable (photos must be sent via email).

Please remember that you are not certified until you receive your official notification from IronMind.

IronMind requires all of the criteria noted above be met before completing the certification process. Upon receiving your completed paperwork, we announce our decision in the IronMind News column at www.ironmind.com and your name will be added to the list of people who have closed a No. 2 (for women), No. 2.5 (for women), No. 3, No. 3.5, or No. 4Captains of Crush Gripper—the most highly-regarded feat of grip strength in the world. We'll also announce your accomplishment in the next issue of MILO: A Journal for Serious Strength Athletes; and we'll send you an official CoC certificate, along with a T-shirt and CoC ID card that proves your mettle.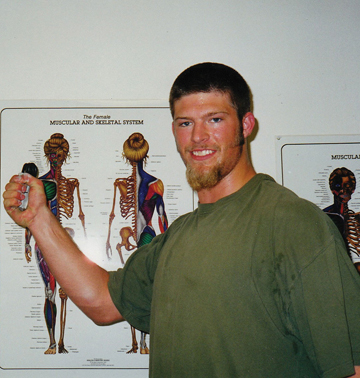 Jesse Marunde at 18 years old, the first teenager to be certified for closing the No. 3 Captains of Crush Gripper. J. V. Askem photo. Reprinted with permission from MILO, September 1998, Vol. 6, No. 2.
Jesse

Marunde Educational Trust Fund

In 1998, IronMind certified Jesse Marunde on the No. 3 Captains of Crush Gripper, and as his friend J. V. Askem and his grandfather George Farren quickly realized, this made 18-year-old Jesse "The First Teenage Captains of Crush," a title that stuck with him.

Tragically, Jesse died in 2007, and to honor his memory and help out his two children a little, IronMind will donate $500 to the trust fund set up for their education for each teenager we certify on the No. 3 Captains of Crush gripper. This offer stands for as long as IronMind certifies people on these grippers or until Jesse's two children turn 18 years old.

If you're a teenager with an especially strong grip, here's your challenge: earn a special place on a very select list—and help Jesse's children in the bargain.
Jesse Marunde Educational Trust Fund: "Teenage Captains of Crush"

Sam Solomi
April 2009
$500
Jonathan D. Vogt
July 2009
$500
Alexandre Paquette
March 2010
$500
Nikita Krivosheev
October 2011
$500
Albin Lindskog
July 2014
$500
Katsuya Kawasaki
Febuary 2018
$500
Gyu-min Lee
May 2018
$500
Brandon M. Brahler
June 2019
$500
Iain Thain
March 2021
$500
Ivan Cuk
March 2021
$500
IronMind contributions to date
$5000