Teenager Brandon Brahler Certifies on the Captains of Crush No. 3 Gripper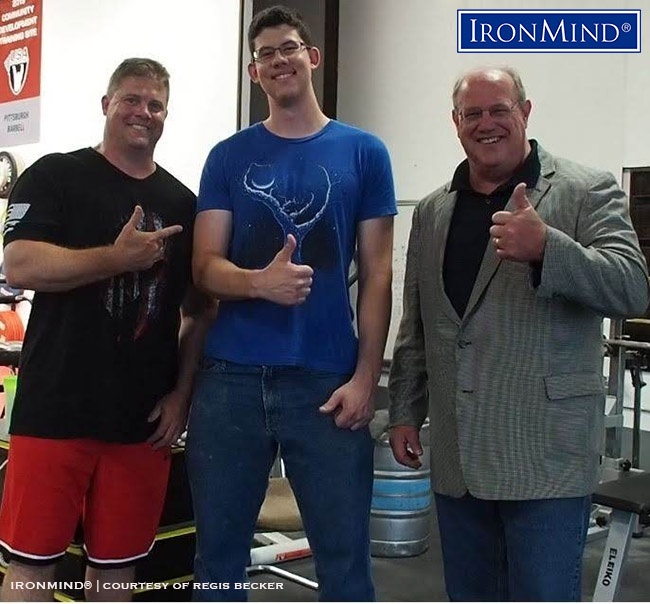 Eat your heart out: Brandon Brahler learned about Captains of Crush (CoC) grippers on YouTube, closed a CoC No. 2.5 the first time he tried and today, five or six months later, he has been certified on the Captains of Crush No. 3 gripper . . . and he hit that distinction at 19 years old!

Teenager Brandon Brahler—"pronounced Brawler, which is appropriate!" said referee Regis Becker—of Hopewell, Pennsylvania, has certified on the Captains of Crush No. 3 gripper. A strapping 6' 8.25" and 235 lb., the 19-year-old certified as a teenager just under the wire as today is his 20th birthday. Brandon's name has been added to the Teenage Captains of Crush roster, and his success has enabled IronMind to send a $500 donation to the Jesse Marunde Educational Trust Fund in honor of strongman Jesse aka "The First Teenage Captains of Crush" Marunde, who tragically died in 2007.

Brandon, a pre-med at the University of Pittsburg with a major in neuroscience, "aims to wind up as a surgeon, and I enjoy grip sport and weightlifting during my free time," noting, "Grip has been a wonderful outlet for stress." Brandon was able to close a Captains of Crush No. 2.5 the first time he tried and "once I realized how much of a head start I had with some big hands . . . I made insane progress, only hindered by some minor wrist injuries. 

"When I ordered a CoC No. 3 from IronMind. I was able to close it upon arrival--it wasn't a wide enough set to be official, but I was so excited. I am making an effort to diversify my training to see just  what I can do," Brandon told IronMind.

Brandon's training routine is as straightforward, simple and impressive as you'd guess: "Two days on, 1 day off, with 10 reps [each] on the CoC 1.5, CoC 2, CoC 2.5 and then as many as possible on the CoC No. 3." 
Looking ahead, Brandon told IronMind that his goals include: certifying on CoC No. 3.5 gripper; exceeding 225 lb. on the Rolling Thunder; trying the CoC Silver Bullet Hold with the Captains of Crush No. 3 gripper; and bending the Red Nail.

In his spare time (he's a busy guy), Brandon is writing a book, as well as tackling novice blacksmithing and strongman challenges. 

Brandon said, "Both of my judges deserve a wonderful shout-out for working so quickly with such short notice—they really were great." 

Many thanks to referee Regis Becker, who kindly fit the certification attempt into his busy schedule on the evening before Brandon's birthday, and his colleague Stew Burks, who assisted at the Pittsburgh Sports Performance Center in Bridgeville, PA. Regis told IronMind, "We will follow up with video from both Brandon's fancy camera (with a tripod and everything) as well as my shaky iPhone video. We actually made Brandon close the gripper several times for photos and to hear the 'click,' and we heard it grind a little at one point.  Brandon, turns 20 years old on June 10 (tomorrow) and plans to fill out to 300 lb.!"

                                      ###



You can also follow IronMind on Twitter, Instagram and on Facebook.                        



Want to talk grip, strongman, weightlifting . . . everything strength? Visit the IronMind Forum.