Brixa Big on the Apollon's Axle at the Arnold Armlifting Championships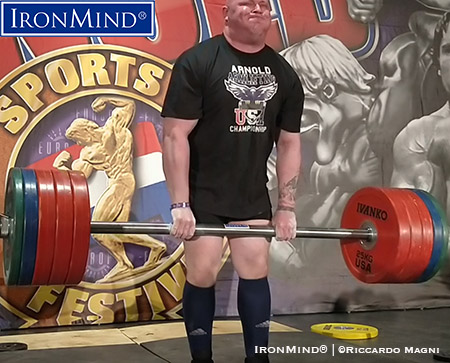 Competing in the Arnold Armlifting Championships, Germany's Andreas Brixa proved he's a world-record threat on the Apollon's Axle.


Breakout Performances on the Apollon's Axle at the Arnold Armlifting Championships
by Clay Edgin
Armlifting USA


If there's one thing that's becoming more apparent in Armlifting, is that the light weights and the heavyweights only separated by body weight, not in what they are capable of lifting.  This was evident yesterday when  three lightweights  lifted the same weight as the winning heavyweight on the Rolling Thunder.  Today, they continued to put on a show  as Eric Roussin of Canada  lifted 195kg to take the win, followed by Adam Glass with 190kg and Aleksandr Filimonov finishing with 185kg.

The heavyweights did not disappoint, as three of them lifted 200kg or more. Andreas Brixa won the event with 215kg and then called for 230kg on his 3rd attempt, narrowly missing it at lockout. He looked absolutely solid at it until the very end when it blew out of his grasp. He could be the next contender to challenge Mike Burke's World Record of 235kg. Carl Myerscough, the Arnold Rolling Thunder champion, came in second with a best lift of 210kg and the Vicegrip Viking himself Odd Haugen took the stage to finish 3rd with a good lift at 200kg.


                                                                  ###



Follow IronMind on Twitter, Instagram and on Facebook.


Want to talk strength? Visit the IronMind Forum: Strongman, grip, Highland Games, Olympic lifting, stones and more.