Who's New Captains of Crush® Grippers
Our History
Richard Sorin: first-ever certified for closing a No. 3 Captains of Crush Gripper.
In 1991—to recognize his exceptional accomplishment in closing our No. 3 Captains of Crush Gripper—we decided to "certify" Richard Sorin, establishing his feat as a high mark for others to shoot for and try to match. We included Richard's photo and feat of strength in our 1992 IronMind catalog, and when John Brookfield duplicated Richard's feat in 1992, our gripper certification was off and running . . . although it would be another two years before Tyce Saylor joined the illustrious Richard and John on the world's most prestigious hand strength list.
Since that time our list has grown to over 150 stout-hearted grip masters on the No. 3 (still a very exclusive club) and 5 dragon slayers on the No. 4. Our Rules for Closing and certification procedures have been honed along the way to reflect the spirit of legitimately closing a Captains of Crush Gripper. These grippers have a unique history and rich tradition—they didn't just jump on the bandwagon—and our rules guard this flame.

In 2008 IronMind added of a certification for those who have the strength and determination to master the No. 3.5 Captains of Crush® Gripper. Have you conquered the No. 3 and are you currently working toward the No. 4? Mark your achievement and get certified! All who accomplish this will be honored forever. 

New for 2011 is IronMind's addition of No. 2 CoC® certification for women.  Who will be first, we asked, and the answer was Adriane Blewitt.
Get Certified!
Want to get on the list? First be prepared to train really hard and really smart, working your way up through the ranks of our benchmark grippers until you close the No. 3, No. 3.5, or No. 4 according to our Rules for Closing. You'll then need to follow the procedure for certification.

What will it do for you? As with any goal worth achieving, the reward is in the journey and the knowledge that you did it right. Sure, you'll have the glory of seeing your name on the list of those having closed a Captains of Crush Gripper under certified conditions, but more importantly, you'll know that you can dig deep inside and with a big dose of dedication and persistence, and a measure of faith, you can climb the mountain.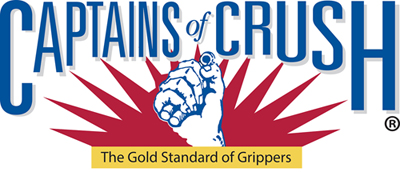 No. 2 Captains of Crush Gripper
Amy Wattles – 2013
Elizabeth Horne – 2013
No. 3 Captains of Crush Gripper
Carl Myerscough – 2017
Graeme Bryce – 2017
Dmitriy Burlakov – 2017
Mike Murray – 2017
No. 3.5 Captains of Crush Gripper
Alan Barch Jr. – 2015
Carl Myerscough – 2018
No. 4 Captains of Crush Gripper